Document approval
Designed for teamwork.

Complete Document Lifecycle Management in Google Drive
Collavate provides your business the ability to design and implement complex approval processes in your Google Workspaces applications. Our product allows you to submit a document, edit it, and resubmit for approval over and over again. Coupled with historical data, your documents retain the record of changes, comments, and reviews over time. 

A familiar and simple interface allows your employees to navigate bulletin boards, group discussions, and approval processes with ease. Remote communication and collaboration is fostered within each of Collavate's features. 

Our partners, as well as our company, use Collavate to create and manage their Quality Management Systems (or QMS) for ISO, HIPPA, and other compliance protocols effectively. Collavate also helps during audits, by keeping document histories and activities up to date.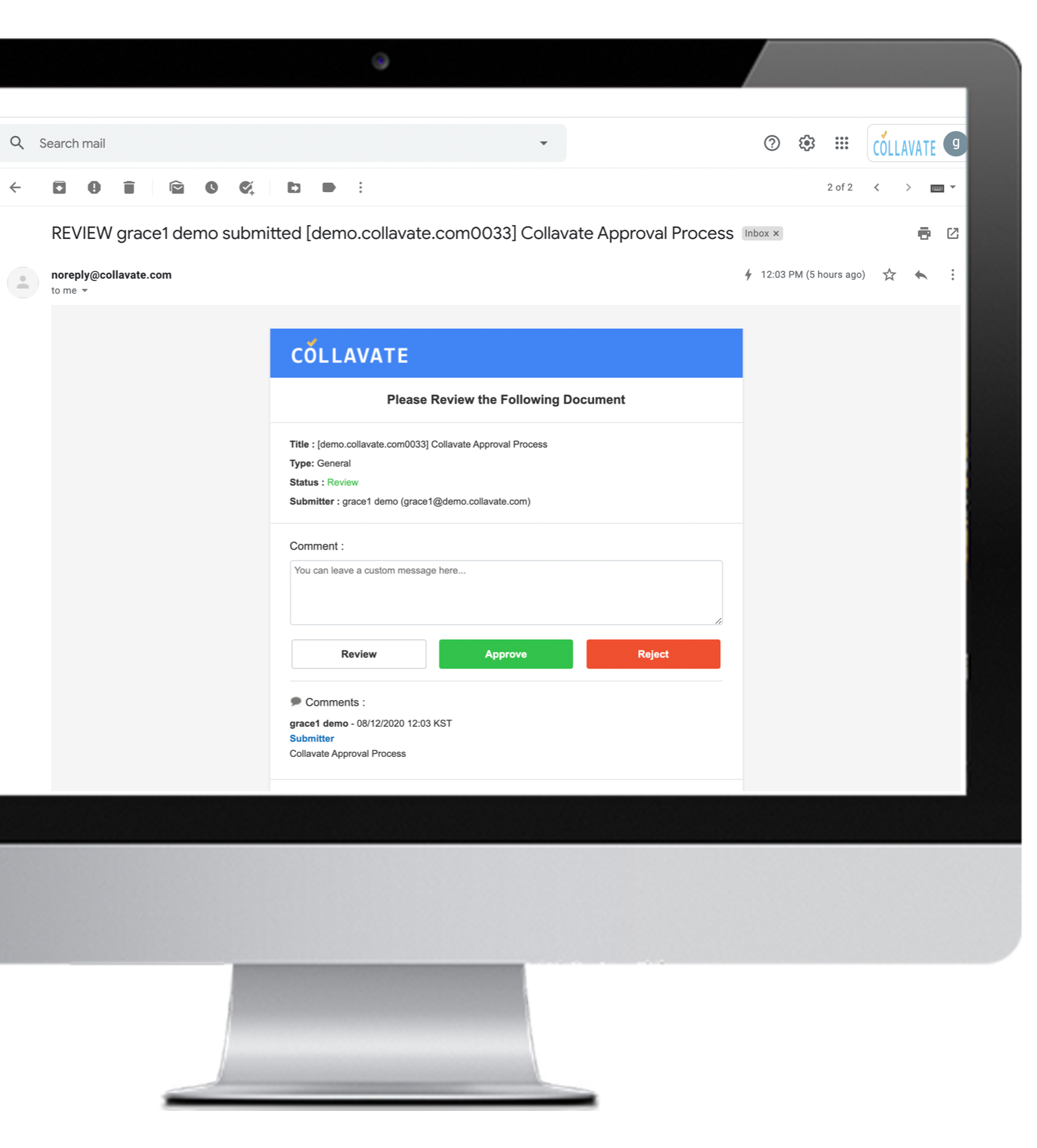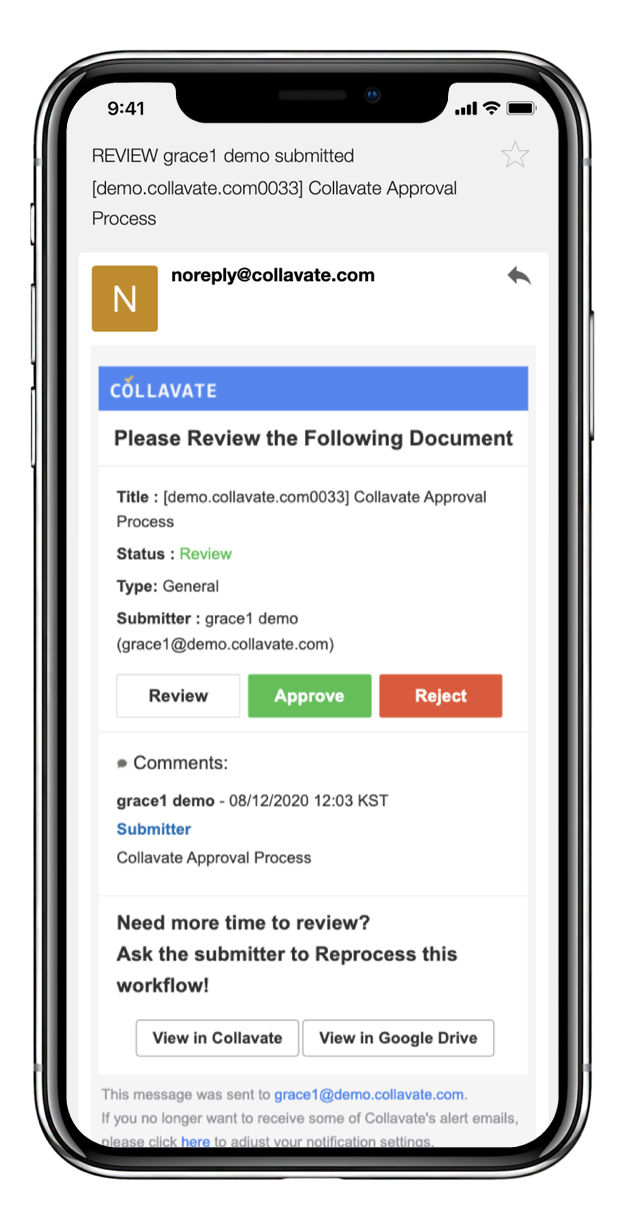 Approve the document in Gmail App.
Simply review and approve documents in any device.

You don't need to login to Collavate in Gmail App.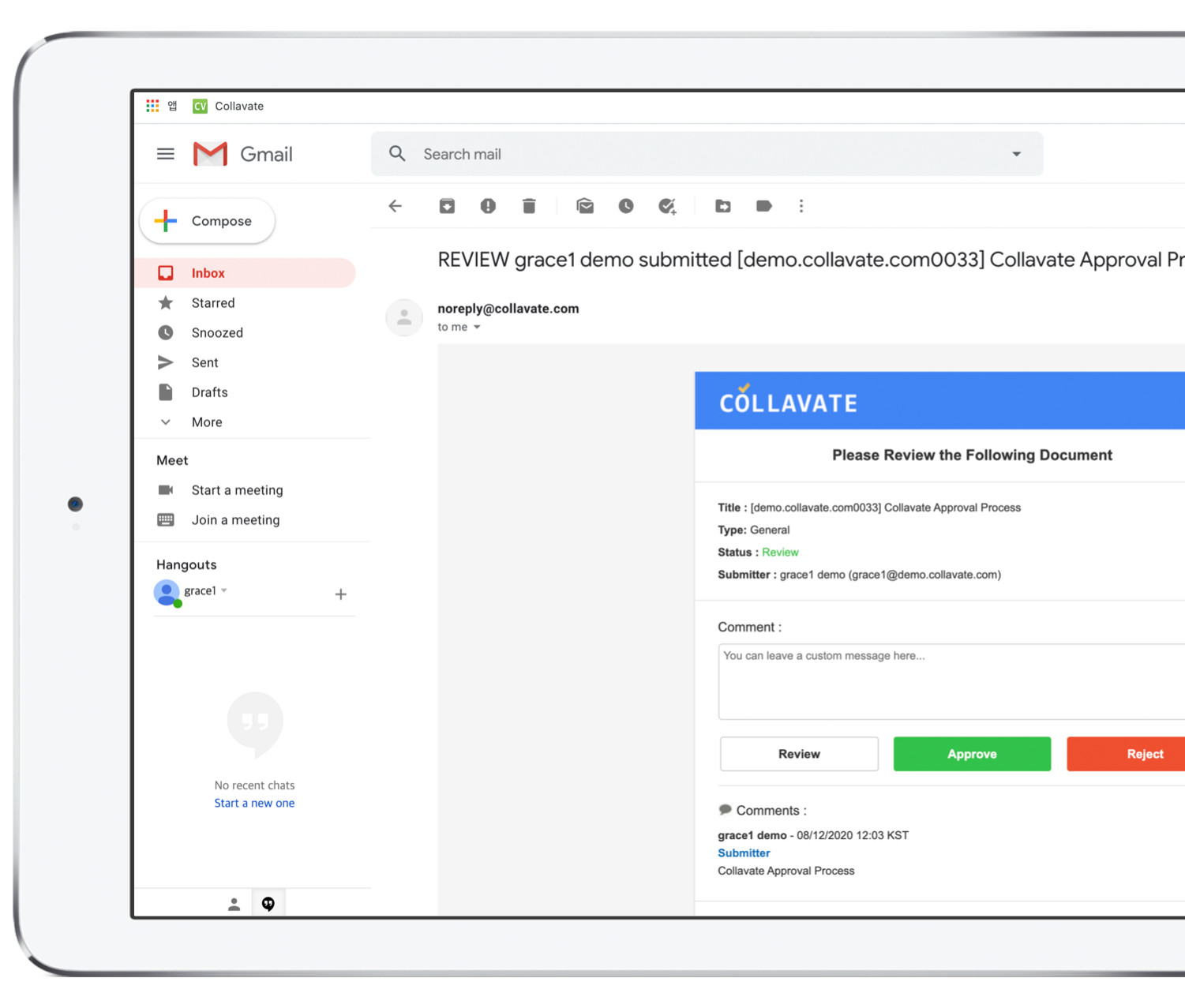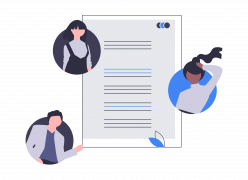 Collaborate with teammates on anything
Work with your colleagues to create, edit, or draft documents. Collavate allows you to share these documents with other teams for further input. You can even mention specific people to ensure they comment on your work! Our group posts make this even simpler; sharing documents in a group alerts all of it's members–communicating with everyone simultaneously.


By mentioning users in your posts or replies, you can keep the conversation going, even if you are not working in the document. You don't even have to login, just reply to the Collavate email, and your comment will be added to the post.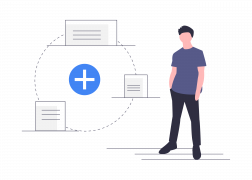 Helps guide good decision making
Collavate supports a wide range of devices–web, mobile, hard copies, and e-ink. Our goal is to allow approvers to focus more on the document, and less on getting there.

Approval process design is simple and intuitive. Our reflexive interface allows users to submit documents with users in sequential layers, or all at once for a parallel agreement. You can even CC users or groups to get their comments!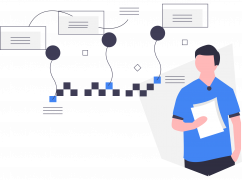 Maintains the Integrity of Privileged Information
All documents submitted through Collavate are sent through the Document Manager. The Document Manager account, or Document Admin, maintains permissions for all submitted documents in Collavate. This can be used to delegate editing capabilities to specific parties, or remove your employee's ability to edit entirely.

The document manager serves to centralize all document permissions. From an auditing perspective, this makes tracing accountability simple and fast.
Don't take our word for it.
Collavate's clients think we're collaboration gurus.
Check out who they are, and what some of them have to say about us!
Trusted by 3 Million Users across 15,000 Organizations in over 190 Countries