Add Collavate app to your Slack
and get started in one click. 
You can view the workflow status detail feed which includes comments, document title, approval status, name of submitter, sent time, and links to documents. ​

To view the workflow document, you can check it on Google Drive by clicking the document link. After completing the review, you can complete the review process by clicking the Approve or Reject button. ​

When the workflow is completed,an email notification is sent to the stakeholders and updated in both Collavate and Slack platforms.
"Don't miss important workflow documents"
Automatically receive notifications of workflow documents submitted by anyone. Job can be done in one click within Slack. You can always do more stuff in Collavate app as well.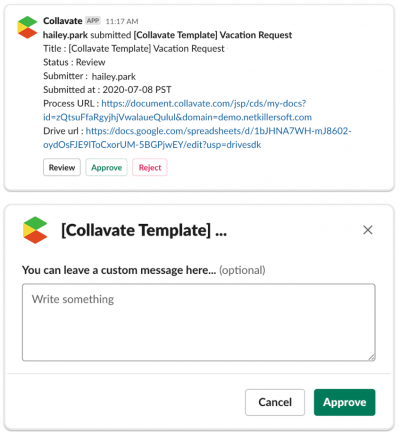 "Communicate with group posts"
You will receive both notifications of the workflow status and group post of Collavate. There is a group post where you can share information and discuss with colleagues. Participate in group posts to discuss about tasks or documents.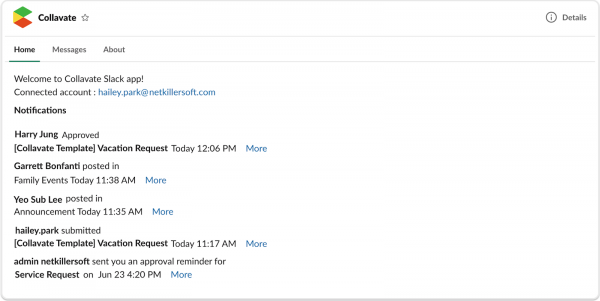 Adding Collavate to your Slack domain is simple.
1. Click the 'Add to Slack' button to install Collavate.


2. Click the Allow button to link with your Collavate account.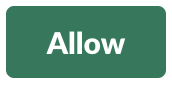 3a. Open the Collavate for Slack app home tab.
If your slack account email is the same as your Collavate account email you will see a welcome message.
3b. If your slack account email is different from your Collavate account email you will see a "Connect Slack to Collavate" button.
Click the button to link your slack id to your Collavate ID. After this, you will see a welcome message in Slack.
4. Collavate for Slack installation is complete. You will now receive Approval Process notifications in the Collavate for Slack app.
Document Approval for Teamwork.
Start your 7-day free trial