Save time and make quick decisions with AI-generated summaries for your approval documents
Hello Collavate users!
We are excited to announce a new feature that will revolutionize the way you review and approve documents in Collavate: AI-powered document summaries! With this update, you'll be able to quickly understand the contents of your approval documents without having to read the entire document, making your review process faster and more efficient.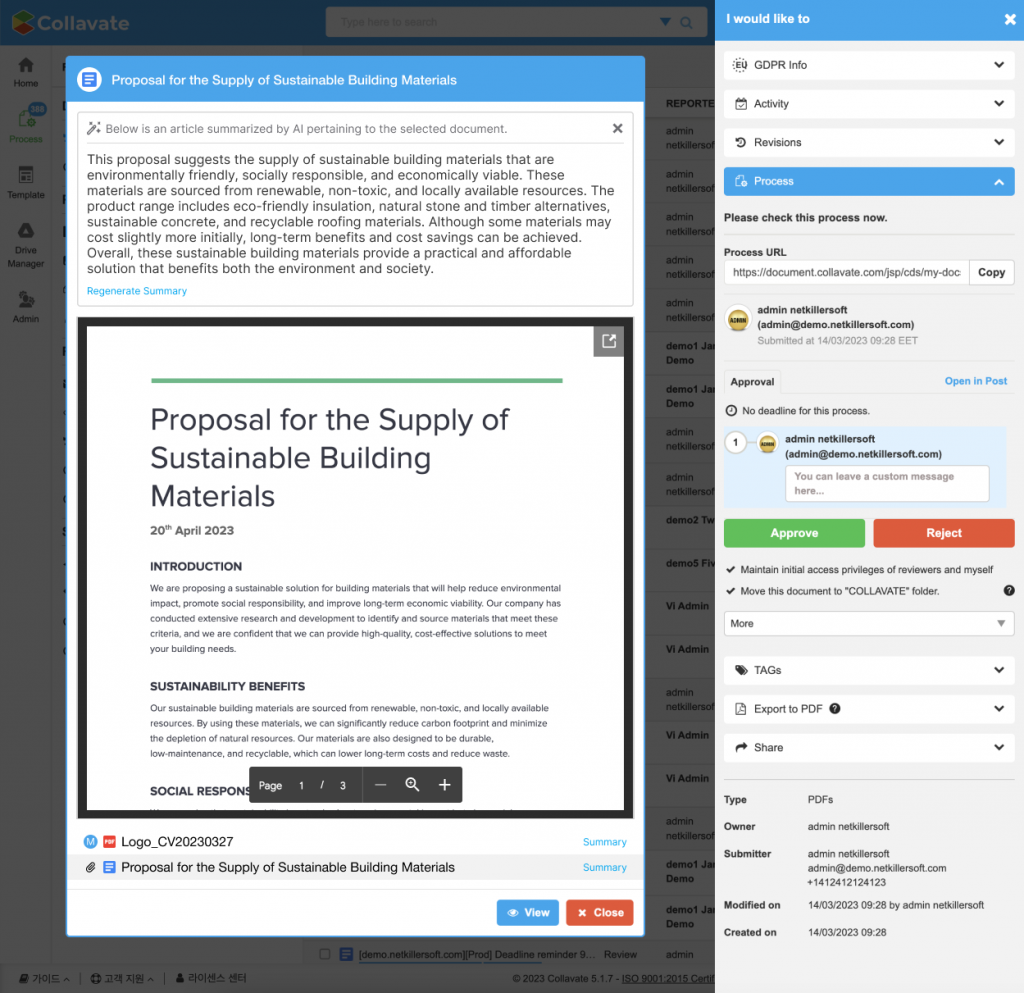 Bringing the Benefits of AI into our Everyday Decisions
Previously, approval document previews only displayed the first page, making it difficult to understand the contents of a document quickly. As a result, users had to read the entire document to understand the full context, which was time-consuming.
We have now added a document summary feature to the preview pop-up screen for approval documents. Now, you can receive an AI-generated summary of the selected document by clicking the 'Summary' button next to each document in the document list.
How It Works
We have updated the Collavate document preview pop-up screen to accommodate the new summary feature. Clicking the 'Summary' button next to a file name generates the summary of the selected file. If you click another file's summary button, the preview screen automatically switches to the new file and generates a summary.
Click the 'Summary' button next to the document title in the document list at the bottom of the approval document pop-up window.
A summary is generated at the top of the currently selected Google document preview window.
If desired, click the 'Regenerate summary' button at the bottom of the created summary to generate a new summary.
The AI-generated summaries are available for all file extensions and are automatically translated into Collavate's set language. The summary character limits are as follows:
Korean, Japanese, and Chinese: 500 characters
English and other languages: 800 characters
Secure and Responsible Use of AI
Please note that user-generated summaries are not saved, and a new one must be created each time the screen is switched.
Release Date
We expect to release this new feature in May 2023.
We hope you enjoy this new functionality and that it makes your approval process smoother and more efficient. As always, we value your feedback and encourage you to share your thoughts on this update.
Stay tuned for more exciting features coming soon to Collavate!