Remote work environments can be difficult. Couple that frustration with the pressure of external stimuli, and you have a recipe for disaster. Without proper organization of communication, file structures, and team structures, managing multiple projects simultaneously becomes all but impossible very quickly. That's where Collavate's Group Feature comes in!
With this, you're able to create dedicated spaces for your teams or projects. Along with the group, you get a team drive added to everyone's main Drive page, and a space to collaborate without unnecessary commentary from people outside of your team. For new ideas, or more private communications, our groups allow you to set privacy permissions and specify sharing settings to connect with only those users you need or want.
Collavate is all about improving the communication between your team members, remote or in the office. If you look at the image below, you can see how Matt and Garrett chat with one another in their dedicated team group. Sharing files, memes, or articles from local sources about their favorite restaurants, no matter what they use the group for, it's just for them. It's easy to add new members, or remove old ones, and you can have as many groups as you wish!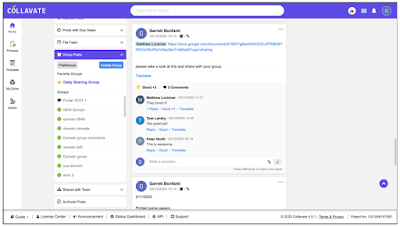 Combining a group post structure with a team drive is convenient for more than just communication. Ensuring everyone has permissions to project files, or can access all of their files in one place allows for a streamlined and organized workflow to help increase productivity and efficiency.
Here at Collavate, we use group posts for just about every department. In the development team, we organize the team drive by project, allowing all of my team members to access, comment on, or edit any documents as needed. Groups also give everyone a dedicated place to ask questions to specific people, and allow other people to clarify. Instant communication is great, but when you work with international employees, messaging someone in a different time zone in a chat can get messy.
Some times we answer when we're not working, and some details can slip through the cracks. By posting, and creating a conversation within a Collavate group, communication becomes more flexible. The conversation continues when you log in and read the post. And it's there to refer to, just add it to your favorites and review it again later. If you want it to be discussed in real time, too, go for it! Collavate supports both.
Detailed communication, group file structures, and organization are just some of the benefits of using Collavate Group Posts to keep connected. Our Compliance Specialist uses Group Posts and folders to keep our QMS documents for ISO 9001:2015 and 27001 up to date, reviewed, and audited. There are other features within Collavate that help with audits and reviews: our version history, detailed approval and event histories, and exportable process information just to name a few.
But when he's simply working with files, editing and reviewing, the group posts help keep him on task and efficient. Groups also allow him to tag specific users in posts to gather information about the company, or a specific process. This keeps communication streamlined, and private to ensure no privileged information is shared.
Collavate group posts have many uses and applications to all different types of workflows. From manufacturing to development, Collavate effectively manages the collaboration and document workflow of your company.