We know how important it is to have the ability to modify documents and workflows while a document is undergoing the approval process. For instance, your current approval reviewers may require additional teammates to review the files or even require additional attachment files. Another vital feature is presenting workflow histories and having track records of how documents went through the approval process for auditing purposes. We are now announcing that we have released these features and they are available for use!
[New] Reviewers can add additional reviewers and files
Now, both an originator (submitter) and reviewers of a document can add more attachments or modify workflows while they are undergoing the process approval.
Reviewers now have the option to add more reviewers to the document and add more attachment files to the document. Please note that modifying the workflow process will only be available for users within the same domain. For example
admin@collavate.com
and
user@collavate.com
. Modifying workflow processes cannot be used with outside users.
There are two ways for users to do so:
1) Through the Collavate workflow window
When a reviewer receives an email from a document submitter, he or she can click the collavate document link within the email and a popup of the document will open as shown below in a demonstration example. On the popup screen, click the pencil icon to edit the document.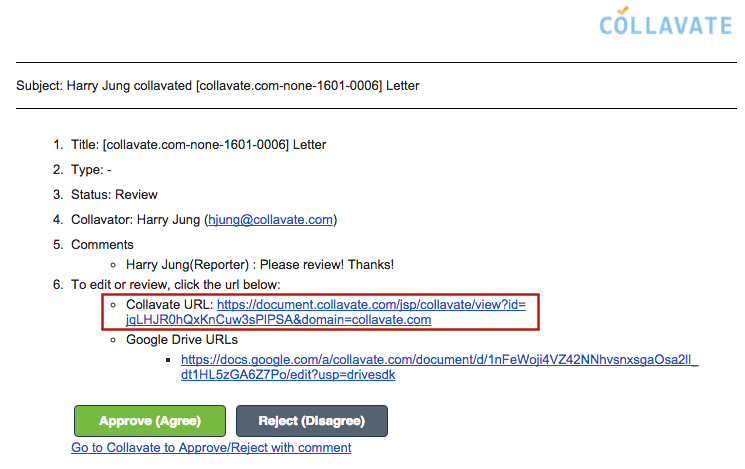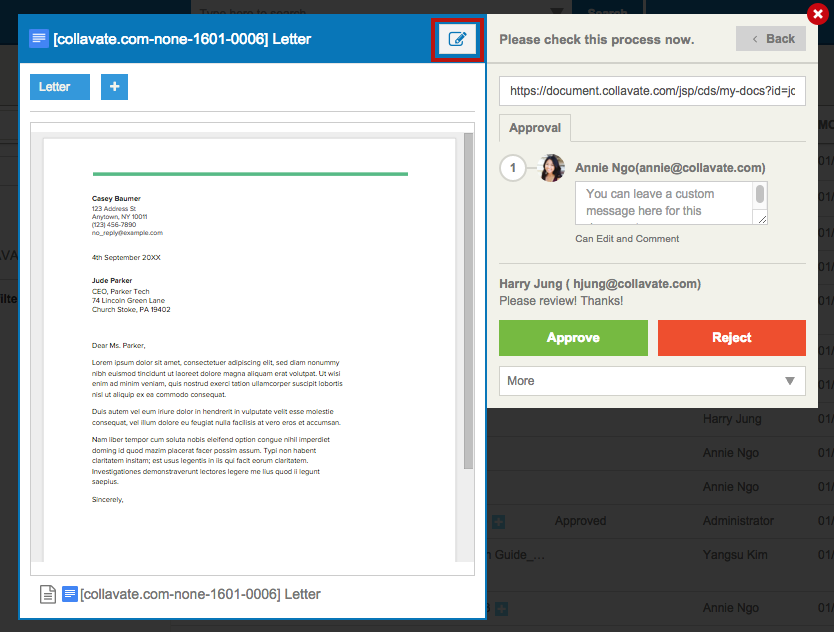 You may now edit the document, attach more files, and also add more reviewers in the following screen.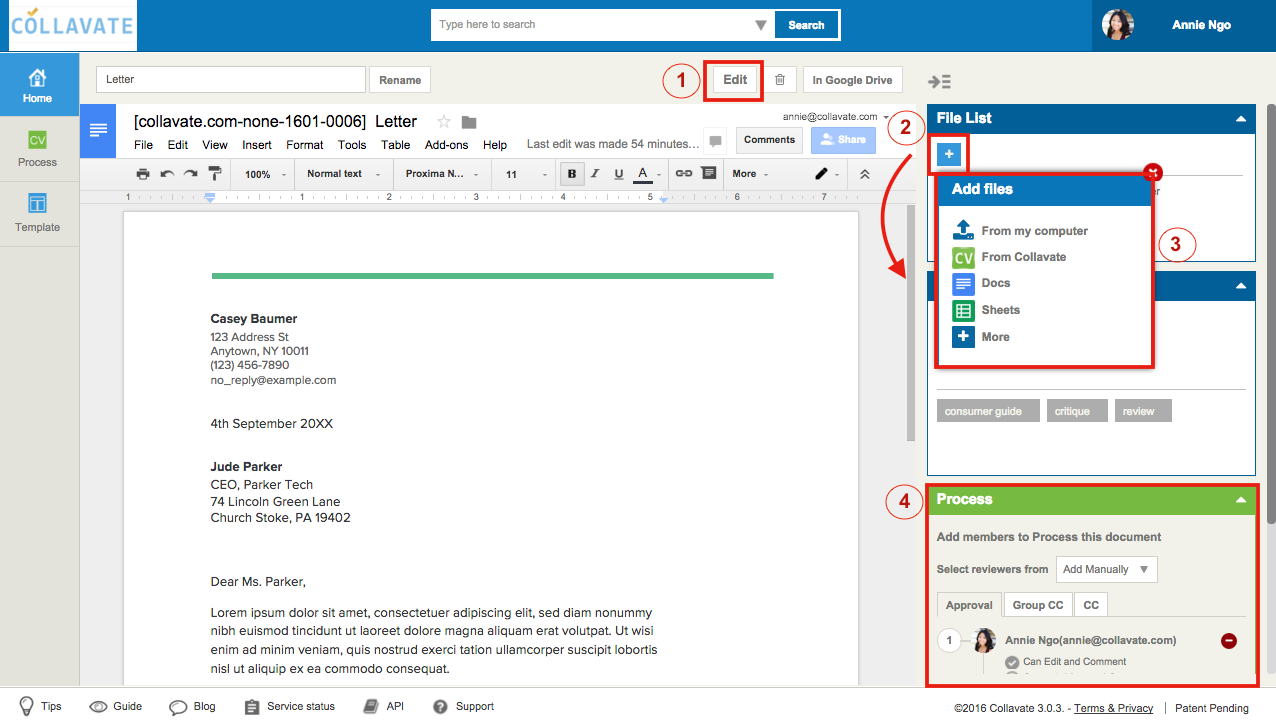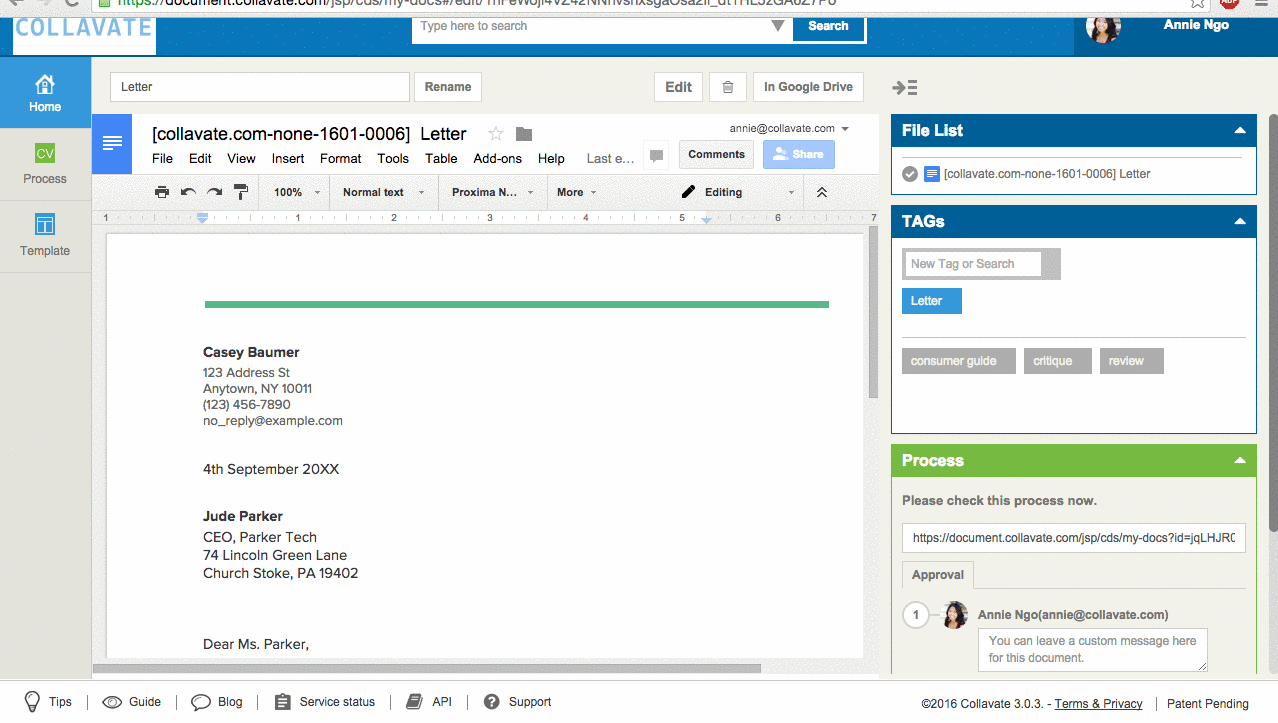 ① Click Edit button at the top, and the entire workflow side pane will appear for editing.
② You can click
[+]
icon to add attachment files
③ Choose files from my computer, collavate (google drive), or new google docs files
④ You can modify the line of reviewers below you or add more reviewers. Please note that approvals from reviewers before you cannot be modified.
2) Through my inbox under process menu
Go to the
Process
menu located on the left side of the screen.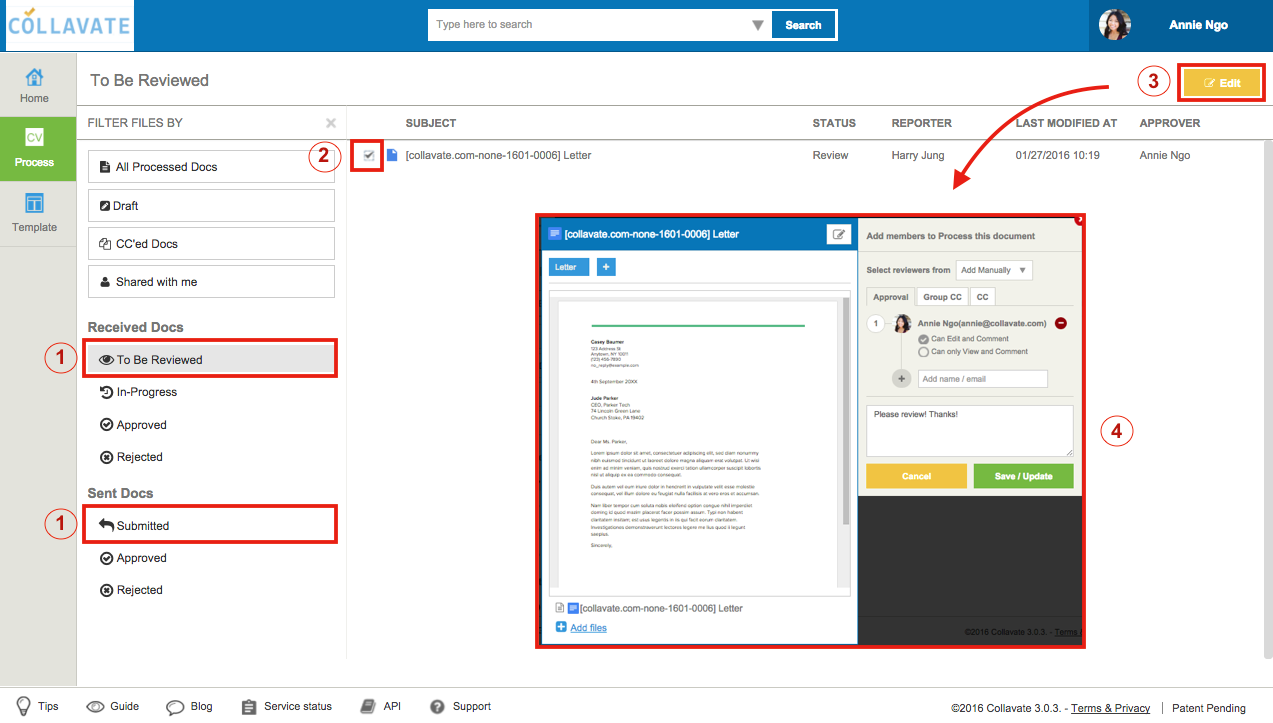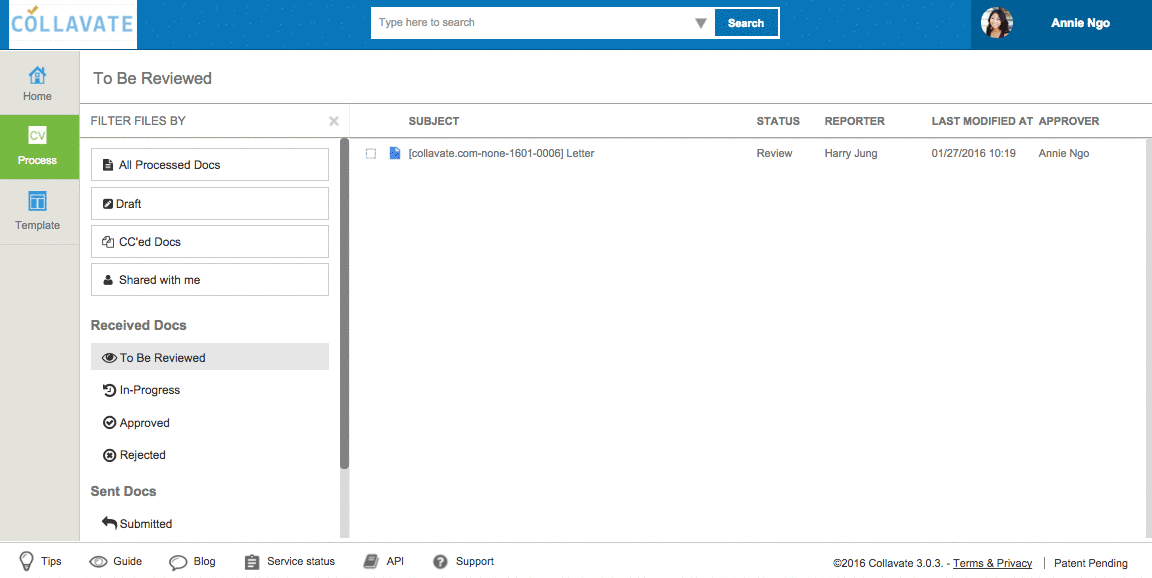 ① Click the
[To Be Reviewed]
menu tab if you are the approver. If you would like to modify the flow of a sent document, you can go to Sent docs > submitted
② Select a file and click
'edit'
that appears on the top right side
③ When a popup appears, click the pencil icon
④ Then you can modify the workflow and use other features within the full window
[New] Process sharing
Now you can share an approved document's process approval track record to outside users apart from the workflow participants. Therefore, you can share your approved document workflow histories and details with anyone that may want to track the approval process of a document.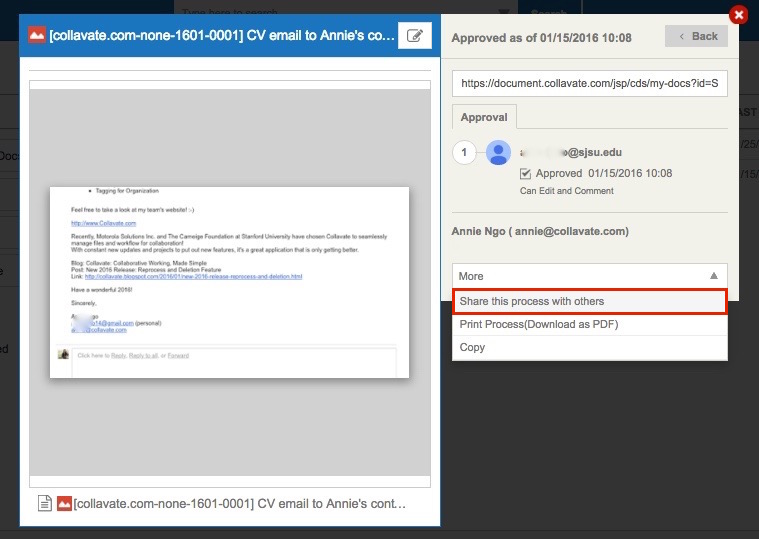 You can simply open the approved file and select "more" and within the drop-down selections, click
Share this process with others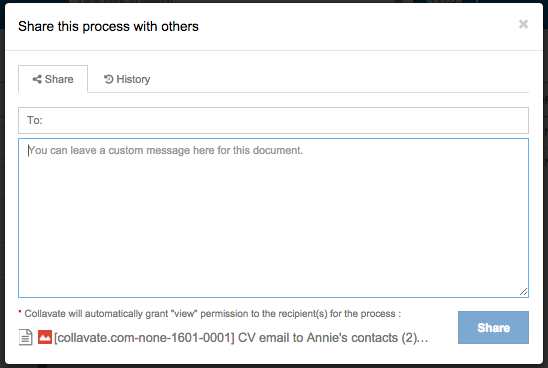 You can enter recipient's email and add a note. Also, you can find process sharing histories to show what recipients have received a track record of the approval process.
There also have been many minor bug fixes and enhancements.
When you enter approver's email or name within a workflow pane, tool-tip appears ask to enter
Groups CC feature minor bug fix

Typing speed improvement when entering reviewer(s) names

Reminder function bug fix

And many other minor bug fixes.



We will update with more features coming soon!
Collavate:
Collaborative Working, Made Simple
Cloud-based Document and Workflow Management
Copyright © 2016 Collavate, Inc. All Rights Reserved.