Cultivate

provides cloud based real-time document collaborations and workflow for organizations. Therefore, dependable uptime and excellent application service

are

crucial.

Collavate
proudly has phenomenal uptime for uninterrupted usage for our users.
Collavate

is based on the Google Cloud platform, and allows google documents to be set and used as templates for review and approval. This management application enhances performance and provides various useful tools integrated into a user's own Google Drive. The product application allows efficient workflow amongst businesses and collaborative group work. All users' data and files are completely stored in the Google Cloud and therefore allow consumers to be at ease with security.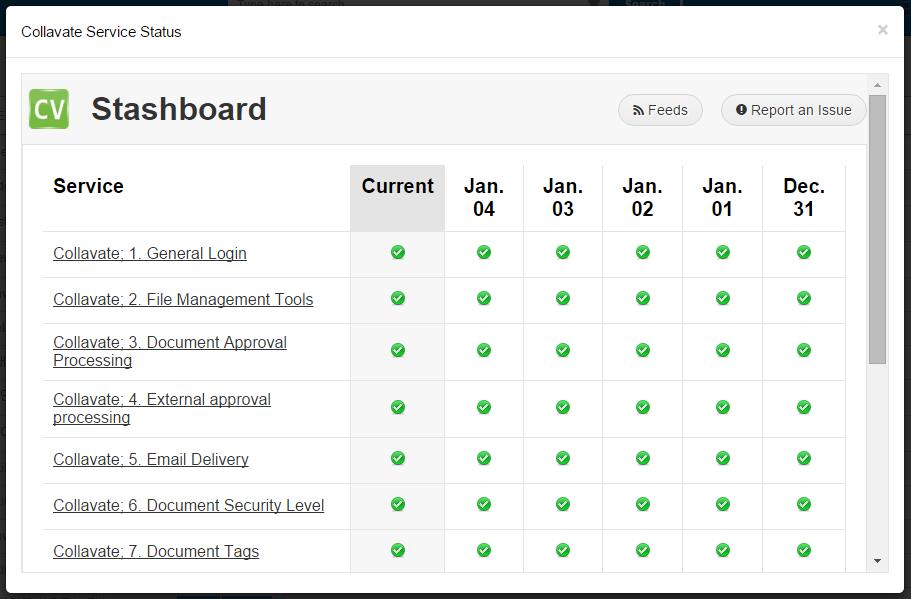 Status Dashboard shows current status of service and service uptime. In the last 12 months, the status dashboard has demonstrated 99.9778% uptime. This infers as little as 20 hours of outages of 365 days and only 1.4 hours per month.

Collavate

has no planned downtime.

There were absolutely no service or critical outage issues. Also,
75% of the disruption
were due to Google Drive and other google service related issues.
Alongside, there were completely no security issues during 2015 from the Collavate application.
With constant new updates and fixes, Collavate will only become more advanced in 2016!

Collavate:
Collaborative Working, Made Simple
Cloud-based Document and Workflow Management
Copyright © 2016 Collavate, Inc. All Rights Reserved.