The Collavate team would like to wish you a very happy new year and we are excited to announce the new features entering into 2016!
1. Simplified Re-Process of denied docs
To improve the workflow of submitting a previously rejected document, a new feature to facilitate re-processing is now available.
At the convenience of a simple click of a button, you can now resubmit any prior denied documents up for the processing again with the added
'Reprocess'
button.
Before this feature, it was required to make a copy of the rejected document for a resubmission to process. To avoid redundancy, this feature promotes efficiency as it is no longer necessary of users to make copies of the rejected document files for a reprocess submission.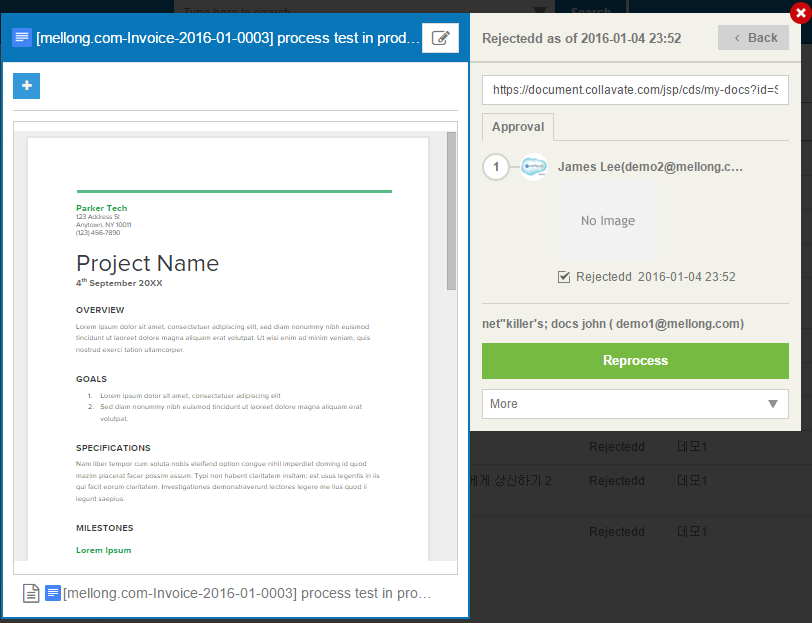 Previous rejected/denied documents are now automatically saved and allows you the option to resubmit the files to be up for approval again with the
"Reprocess"
button.
No need to create a copy of the files as this new feature will conveniently take care of having to repeat steps from the first time your documents were put into process.
This new feature is available on both collavate pop-up and frame window.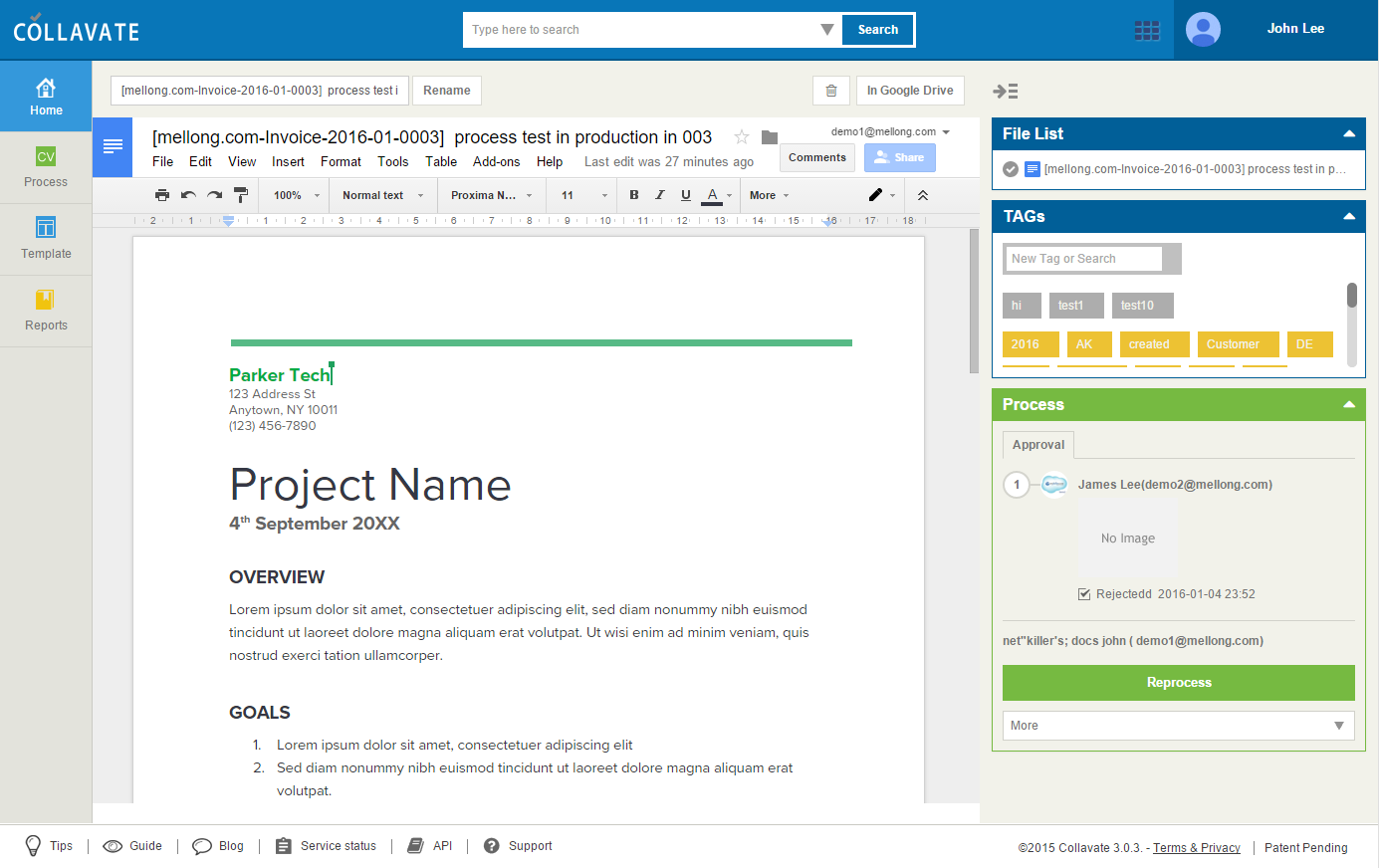 2. Deletion of workflow file
In addition to the new reprocess function, now you can select the trash bin icon (located above right of document file) and easily delete a rejected/denied file.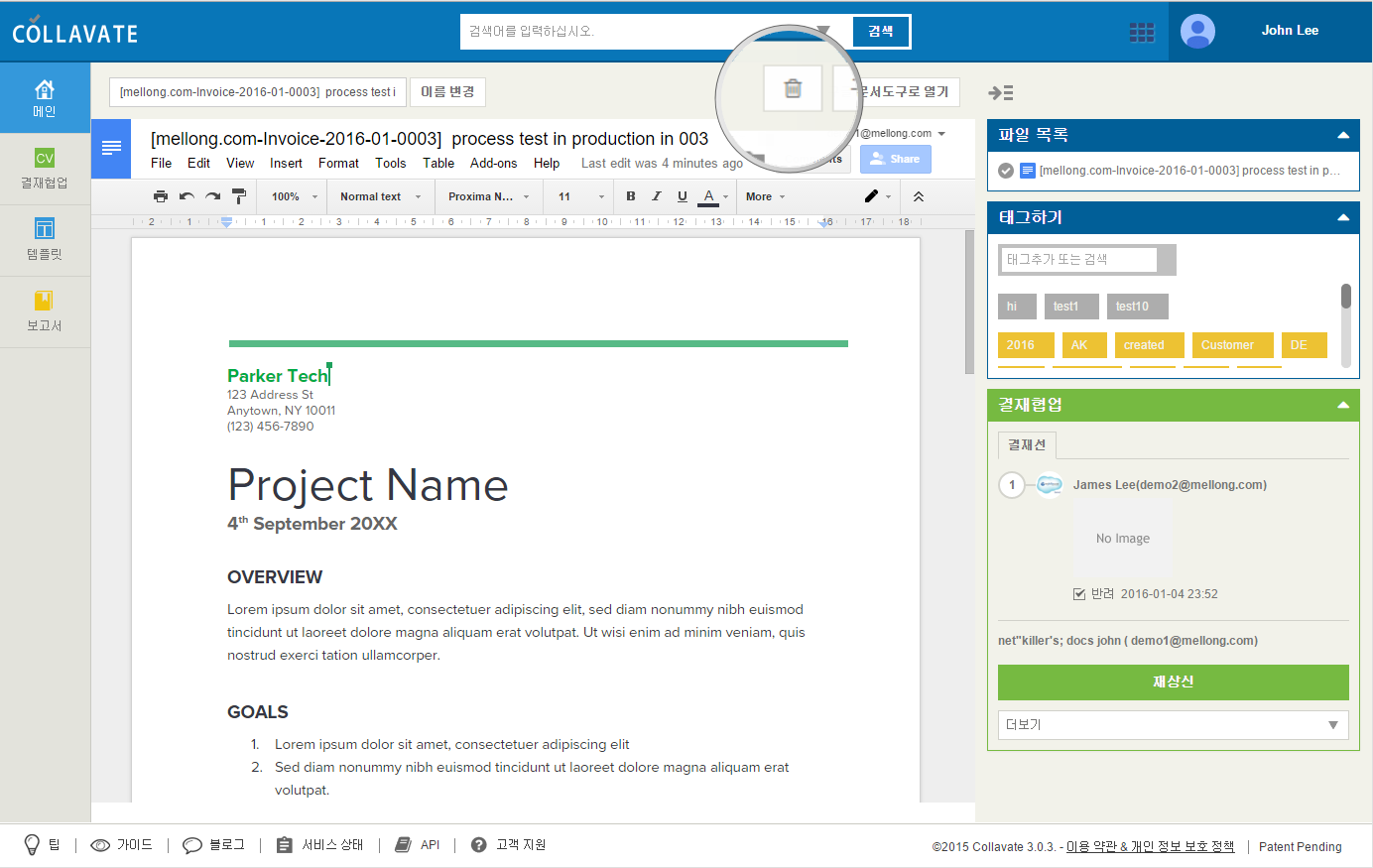 3. 2016 1st Quarter upgrade
Collavate is a world-leading google docs driven workflow application with meta-tagging and document centralization functions. Recently, Motorola Solutions and Carnegie Foundation have chosen Collavate to seamlessly manage files and workflow for collaboration. We are growing with nearly 1 million subscribers all thanks to our new and old users!
Also, we value your consumer feedback and thanks to those, we are upgrading on every quarter and 2-3 new releases will be coming every month, as well as incorporating minor fixes. Therefore, we are averaging 5 new source commits daily, entailing 2,000 annually!

We are going to release a whole new category feature set which we will present as "Project W". and we are hoping to release this great set of perks before the second quarter. When this new feature set is released, your communication will be seamless for collaborative workflow tasks.
We strive to continue to provide the best for our consumers in 2016!
–Collavate Team
Collavate:
Collaborative Working, Made Simple
Cloud-based Document and Workflow Management
Start Collavate today with your Gmail or Google Apps Account
Copyright © 2016 Collavate, Inc. All Rights Reserved.