Automating your workflow has many benefits and in many cases, is profitable.
Here are the several benefits of automating your workflow process:
Satisfaction of finalized publishings
With all that is mentioned above, Collavate greatly reduces the time you spend on redundant steps. With templates, tags, and delegation of tasks, users can quickly skip ahead and focus on producing necessary information and content.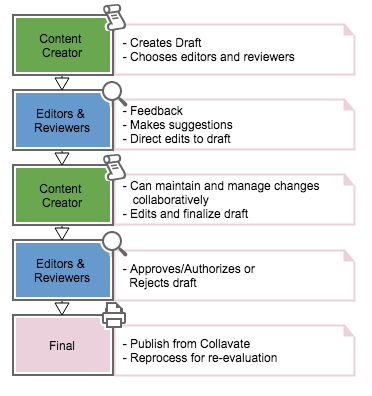 We know not all drafts are perfect the first time. Excellent publications typically goes through the flow of:
Editing and incorporated suggestions
Collavate is designed to enable and facilitate the approval workflow process for Google Drive/Docs. From beginning to end- creation to publication, Collavate will automate your workflow process. We leave room for revisions and further developing. If a document does not make it through approval the first round, the creator will be able to make changes and enhance their work before Reprocessing for a new round of reviewal.

Walkthrough Example:
You are have drafted a journal article that needs reviewal approval before publishing onto your company's daily newsletter site.
Step 1. Create a draft and submit it to your reviewers. You can give your reviews
permission to edit
or view/comment only. If your company has a form, you can use a desired template within the '
Template
' menu. Supporting documents or images can be attached within '
File List
' pane. '
Favorites
' allows quick-select of users that you set for group of individuals you frequently collaborate with. Also, automating approved docs to be sent to your print-house or website designer for publishing, you can be done by including them under
BCC or Group CC
.
In case, you have mistakenly sent a file, you can Edit or Reset the process by using '
Edit process
'
Step 2. Your reviewer receives an email notification. He or she opens your file(s) and reviews/modifies them. They may can use Google Docs 'Suggest edits' or 'chat' function to work together with reviewers to finalize contents. If your reviewers want to add reviewers or files, he or she can do so by clicking '
Edit process
'. If any files are rejected or denied, you can always '
Reprocess
' after revising docs. In case you haven't heard anything from your upper level approver, you can '
Remind
' them.
Automating your workflow system has many benefits!
Save time where you can and enjoy!
Collavate:
Collaborative Working, Made Simple
Cloud-based Document and Workflow Management
Copyright © 2016 Collavate, Inc. All Rights Reserved.