Collavate's processing engine has been used by many customers since 2008. It is mature and stable. However, as is characteristic of cloud services, there have been many upgrades to the engine. As a result, it has been a real challenge to maintain the quality of Collavate and its features.
In order to improve our performance, and to provide a better user experience for our customers, we have been performing 2 quality assurance tests daily from 4 different locations around the world since the beginning of 2014. For each test, engineers in South Korea, the Philippines, India, and the United States conduct a rigorous quality check of a total of 1,300 separate processes (document management, authorization, approval, email alerts, admin menu, etc.).
Even though conducting such extensive testing continuously is not an easy task, we at Collavate are committed to providing our customers with the best quality product. By conducting such rigorous testing, we have reduce the number of bugs to below 5. And we are constantly striving to improve our performance so that you can enjoy the best user experience.
We know that despite our best efforts, improvements in your user experience may not be easy to perceive. We know that it certainly will not happen overnight. However, we are committed to doing our best to improve every aspect of our product and our service. And, we take this commitment seriously.
After all of our efforts, and after thorough internal testing, we are proud to announce the launch of Collavate's Status Dashboard!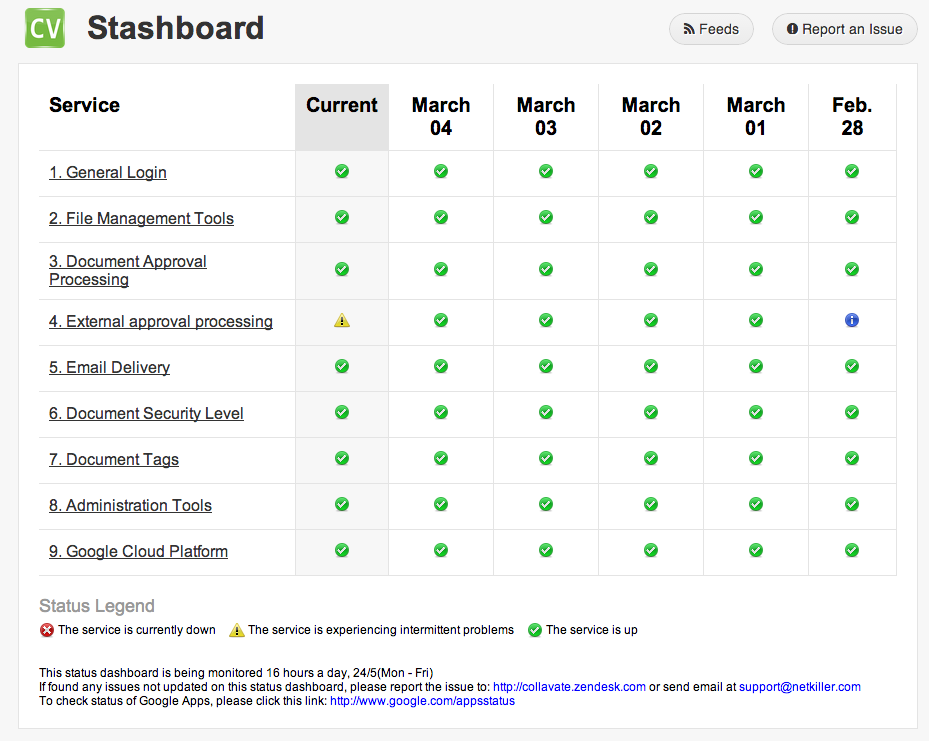 In creating the Dashboard, we divided Collavate's main functions into 8 different parts and also added Google's Cloud Platform so that users can check the status of 9 different items almost in real time.
Since we work very closely with the Google Cloud Platform team, we will be able to provide our customers with resolution of any issues with Google's Cloud Platform faster than anyone else. At the same time, we will be able to better anticipate many problems and address them before they affect the user.
Users can now check on the status of Collavate in real time by clicking on the Status icon on the top of the Collavate screen.
The Status Dashboard is updated 16 hours a day in real time.
Thank you and please take Collavate for a test drive!